1 x PETG 3D Filament 1.75mm Black - 1KG
This product fits in your saved printer list.
Our Price:
In Stock
Product Summary:
PETG Filament 1.75mm 1kg
Colour: Black
Recommended print temperature 220-250°C
High temperature and water-resistant
ABS durability and PLA printability
Low Shrinkage / minimal warping
Description:
PET (polyethylene terephthalate) is a thermoplastic polymer used for drink bottles or sailcloths. Mixed with glycol (hence the "G") exhibits good 3D printing features. PETG filament is resistant to high temperatures and water, presents stable dimensions, no shrinkage, and good electrical properties. PETG combines ABS durability and PLA printability, and it comes as no surprise that it's frequently chosen by professionals seeking a reliable filament for their projects.
What's in the box:

1 x PETG 3D Filament 1.75mm Black - 1KG
Features
Good toughness, high hardness, impact strength is 30 times more than PLA, and the elongation at break of more than 50 times PLA.
Compatible printers must have heating device, can print models have strictrequirements of toughness and and strength, such as: pendant. Also can print strongly heated-resistance and transparent models, such as: lampshade.
| | |
| --- | --- |
| Reel diameter | 200mm |
| Reel hub diameter | 60mm |
| Reel width | 65mm |
Best printing practices
PETG has a higher melting temperature than PLA so we recommend setting your hot end temperature between 220 and 250°C.
ALWAYS use a fan with PETG as it tends to cool the filament in the hot end and help with retractions.
Keep your retraction speed slow at 40mm/s or less.
Apply one coat of Wolfbite by painting on cold glass with long strokes.Wolfbite is a solution specially engineered to bond PETG and ABS plastic parts directly to a heated glass 3D printing surface without lifting. Once the 3D printed parts have cooled, they will dismount from the printing surface with minimal effort, leaving a clean and smooth bottom surface.
| | | | | |
| --- | --- | --- | --- | --- |
| | Optimum Extrusion Temperature | Optimum Platform Temperature | Print Speed | Tolerances |
| PETG | 220-250° Celsius | Glue required if not heated, glue unrequired if 70-80° Celsius | 50-100mm/s | ±0.02mm |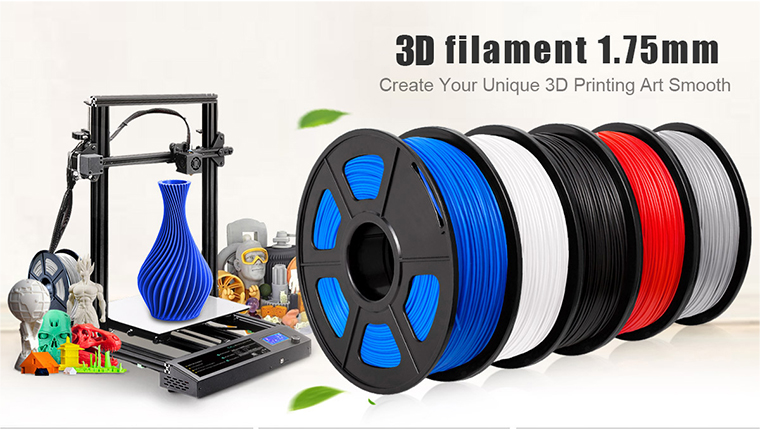 Other Products In This Category


1 x PETG 3D Filament 1.75mm Black - 1KG
Buy Our 1 x PETG 3D Filament 1.75mm Black - 1KG at Best Price.
Full Range of Cartridges at excellent value and will be delivered to your door super fast!
When can I expect delivery of my 1 x PETG 3D Filament 1.75mm Black - 1KG
Your 1 x PETG 3D Filament 1.75mm Black - 1KG is dispatch on the same day from warehouse from Melbourne, Sydney, Brisbane or Perth if order place before 3pm Mon-Fri excluding public holiday. We ensure we always use the best delivery method to delivery the order to your door. As a general guide, deliveries to major cities will take 1 to 2 days whilst it could take up to 5 days for more remote areas.
1 x PETG 3D Filament 1.75mm Black - 1KG Warranty
Our 1 x PETG 3D Filament 1.75mm Black - 1KG is cover by a full manufacturers warranty! If your product is faulty, please check with us to organise a replacement or refund. See our warranty page for full details.
How can I pay?
We accept payment by Visa, Mastercard, AMEX and Direct Bank Deposit. There is no surcharge for using a credit card or any other payment methods.
How secure is Online for ordering?
Credit card payments are securely processed by SecurePay, We do not store credit card details, and No credit card data or information is stored on our site in any form.! Note: Direct deposit and cheque payments require payment clearance before order dispatch.Our site uses 256bit SSL encryption provided from GeoTrust ensuring your credit card details remain safe.
Order 1 x PETG 3D Filament 1.75mm Black - 1KG now
To purchase on the internet you can press the "Add to Cart" next to the products you require. If order over the internet is not for you. You can also order 1 x PETG 3D Filament 1.75mm Black - 1KG by calling our friendly sales team 1300 655 943 to place your order.