1 x ABS 3D Filament 1.75mm Pink - 1KG
This product fits in your saved printer list.
Our Price:
In Stock
Product Summary:
ABS Filament 1.75mm 1kg
Colour: Pink
Recommended print temperature 230-270°C
Strong and sturdy plastic
Ideal for "wear and tear" or durability testing projects
High thermal stability
Description:
ABS (Acrylonitrile-Butadiene Styrene) is a widely used 3D printing oil-based plastic. It is a strong material that can be used to create tough and sturdy plastic printouts for everyday use; an example is the popular Lego building blocks which uses ABS plastics in their construction.
What's in the box:
1 x ABS 3D Filament 1.75mm Pink - 1KG
Features
Designed to fit with a wide variety of 3D printers.
Durable and high tensile strength.
High quality materials for consistent thickness to ensure printing accuracy.
High impact resistance.
Restriction of Hazardous Substance (RoHS) compliant – no hazardous substances such as mercury and cadmium are used.
| | |
| --- | --- |
| Reel diameter | 200mm |
| Reel hub diameter | 60mm |
| Reel width | 65mm |
Best printing practices
When 3D printing, always work in a well ventilated workspace.
ABS Filaments have a high melting point. Because of this, we recommend ABS printouts be outputted at a temperature range of 230-270°C with a print-hotbed temperature between 80-120° Celsius to ensure optimal results. Furthermore, ABS can experience warping and/or cracking if cooled while printing or immediately after. To prevent this, ensure no cooling is directed at the ABS while printing, such as a fan.
Please store ABS filament away from the sun in a cool dry environment to ensure longevity as moisture can compromise print quality.
| | | | | |
| --- | --- | --- | --- | --- |
| | Optimum Extrusion Temperature | Optimum Platform Temperature | Print Speed | Tolerances |
| ABS | 230-270° Celsius | 80-120° Celsius | 40-100mm/s | ±0.02mm |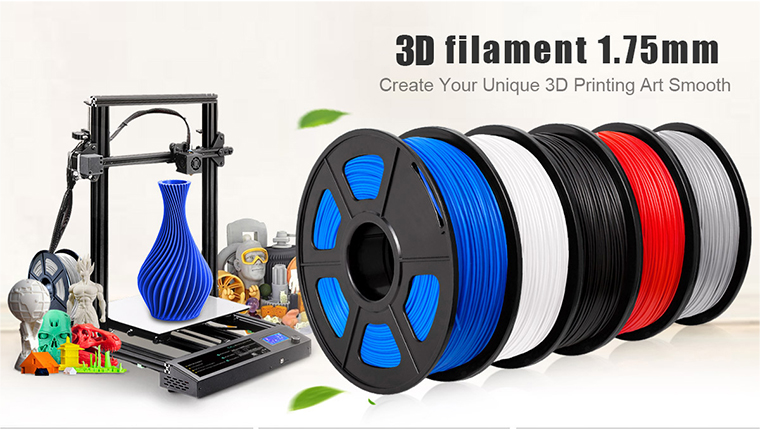 Other Products In This Category


1 x ABS 3D Filament 1.75mm Pink - 1KG
Buy Our 1 x ABS 3D Filament 1.75mm Pink - 1KG at Best Price.
Full Range of Other Categories 3D Filament Cartridges at excellent value and will be delivered to your door super fast!
When can I expect delivery of my 1 x ABS 3D Filament 1.75mm Pink - 1KG
Your 1 x ABS 3D Filament 1.75mm Pink - 1KG is dispatch on the same day from warehouse from Melbourne, Sydney, Brisbane or Perth if order place before 3pm Mon-Fri excluding public holiday. We ensure we always use the best delivery method to delivery the order to your door. As a general guide, deliveries to major cities will take 1 to 2 days whilst it could take up to 5 days for more remote areas.
1 x ABS 3D Filament 1.75mm Pink - 1KG Warranty
Our 1 x ABS 3D Filament 1.75mm Pink - 1KG is cover by a full manufacturers warranty! If your product is faulty, please check with us to organise a replacement or refund. See our warranty page for full details.
How can I pay?
We accept payment by Visa, Mastercard, AMEX and Direct Bank Deposit. There is no surcharge for using a credit card or any other payment methods.
How secure is Online for ordering?
Credit card payments are securely processed by SecurePay, We do not store credit card details, and No credit card data or information is stored on our site in any form.! Note: Direct deposit and cheque payments require payment clearance before order dispatch.Our site uses 256bit SSL encryption provided from GeoTrust ensuring your credit card details remain safe.
Order 1 x ABS 3D Filament 1.75mm Pink - 1KG now
To purchase on the internet you can press the "Add to Cart" next to the products you require. If order over the internet is not for you. You can also order 1 x ABS 3D Filament 1.75mm Pink - 1KG by calling our friendly sales team 1300 655 943 to place your order.